---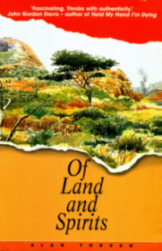 Click here to be redirected to the new Of Land and Spirits web site
Alan Thrush's
Of Land & Spirits
---
The clearest yet depiction of the Rhodesian bush war...from both sides. Full of action and pathos, with never a hint of the glorification of killing.
The Star (Johannesburg)
---
Best of the genre on Rhodesia's bush war. Thrush brings its effects on mothers and fathers, wives, lovers, the economy and the whole social fabric of a country in turmoil into fine focus.
Citizen (Johannesburg)
---
Fascinating. Throbs with authenticity.
John Gordon Davis
author of: Hold My Hand I'm Dying